Congratulations Algeria customer signed 50 tons of corn grinding machine flour unit
Time:2015-09-10

Views:Loading...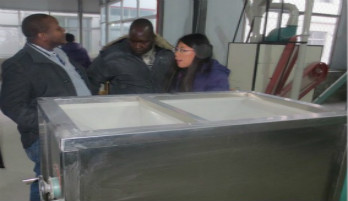 Good news! Algeria customer signed 50 tons of CORN GRINDING MACHINE flour unit on September, 2015. Warmly welcome the Algeria customer of Lushan win tone machinery manufacturer co, ltd. The Algeria customer Mr. Augustine came to Zhengzhou and visited our corn grinding machine unit. After a series of technical communication with our engineer Prof. Wang, Augustine is very satisfied with our corn grinding machine. Accompanied by the Mr. Feng(General Manager), Mr. Wang(Engineer) and salesman, Mr. Augustine went to the working sites of corn grinding machine. And we signed the contract of 50 tons of corn grinding machine processing unit the same day.
The capacity of corn grinding machine set is from 20T-250T daily. It can meet your different demands. Through a series of processing technology, like the corn cleaning, peeling, broken slag, grading, mention embryos, whole, polishing, milling, screening level etc, which can produce corn germ, different sizes of corn flour, defatted corn powder products to meet the needs of different users and food processing industry.
Based on market demand, we design this new corn grinding machine. The corn machine is easy to operate, energy efficient, green. It not only can be placed flat, but using the best quality grinding, grinding rollers as well as chain drive, micro-electrical control, instrument display and trace systems. This corn grinding machine is made up of peeling part, milling part and classification section, which can also be equipped with diesel motor. It is currently the most versatile, best single corn grinding machine.
Thanks for the Algeria friend Mr. Augustine for our corn grind machine support and trust. We believe we will do better and better. Here, you will get the best price and quality. Send your demand to suenshine15@gmail.com, the best price of corn grinding machines will be sent you in 12 hours.