Brief Introduction
The plant is equipped with 1 group of high pressure aspiration systems and new power saving high pressure blower to make a stable operation
Function and Feature
Maize Processing Project
uses many groups of dedusting air nets and suction outlets for equipments easy to produce dusts.The plant is sanitary due to 2 sets of cleaning equipments,4 of germ extracting and 1 of suspending.
Working Principle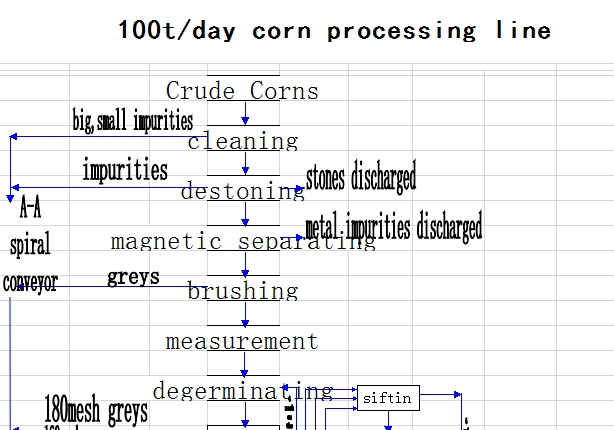 Technical Parameter
1.Double-deck steel structure 38m length, 5m width and 9m height (adjustable according to clients and site).
2.Total capacity 377.89 kw.
3.Total quality product rate: 70~80% with output:
(1)corn 20~30%;
(2)big corn grits 8-10%
(3)small corn grits27~35%;
(4)corn germs5~7%。
4.Total byproduct rate:25~32%, grain loss1%.
Feed flour 25~32%; grain loss1%.
5.Quality standard for finished products:
(1)corn flour:ash≤0.65%,magnetic metal≤0.03%,sand and stones≤0.02%,moisture in corn flour12~12.5%;
(2)germ purity over 85%;
(3)no special requirements for feed flour.
6.Moisture in raw materials is controlled within 15%;corn volume weight700~750kg/m³.Moisture in finished products increases when it is too high in raw grains.
After-sale Service