Brief Introduction
YTZSF28-30 corn peeling, grits& flour making machine set is newly developed, it integrates peeling, polishing,degermination, grits making, grading and milling together, can produce corn kernel, medium grits, small grits and corn flour. It can be sued in corn peeling and grits making, wheat and other grains peeling and flour milling. Corn peeling, grits & flour making machine is your best choice.
Function and Feature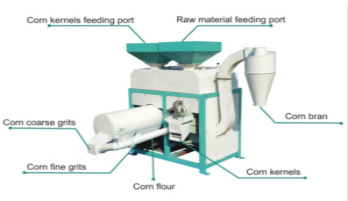 1, YTZSF28-30 corn peeling, grits& milling machine has multi-purposes, compact structure and high efficiency. It is the ideal equipment for the corn processing enterprises, wheat and rice processing plants.
2, Materials are high quality steel.
3, Easy operation and maintenance. It will save you much labor cost and maintenance cost.
4, Weel sealed without flying dusts. It prolongs the working lifte of corn peeling, grits and milling machine greatly.
Working Principle
1. YTZSF28-30 corn peeling, grits& milling machine contains peeling, air blowing, grits making, grading, dust removing, drive parts and frame, etc.
2. The grain comes in to machine through charging hopper, and then come to hulling case by the screw propeller. The hulling case can produce big pressure, the germ and bran of corn can be peeled off by the friction between roller and sieve. Meanwhile, the fan produces big suction, the air blow away through hulling case with the bran and germ and then come to feeds collector.
3. The motor makes knife-rotor revolving by coupling or drive belt. The corn kernel in case is cut by knives, and the cut corn kernel, corn grits, is rubbed against sieve due to gravity, so that the corn grits has smooth surface. The corn grits smaller than sieve hole goes out, and the corn grits bigger than sieve hole still in and is cut again until smaller than sieve hole.
4. The sifting part grade pass sieve mixture into corn flour, corn big grits and medium grits. The little bran, germ in grits are sucked away at exit, so the grits can get a high quality.

Technical Parameter
Technical parmater of YTZSF28-30 corn peeling, grits& milling machine
Type

Capacity

(kg/h)

Pelling speed

(r/min)

Milling speed

(r/min)

Grading speed

(r/min)

Reted voltage

(V)

Power

(kw)

Weight(

kg)

Dimension

(mm)

YTZSF28-30
500
970
3024
576
380
11
428
1900×1500×1460
After-sale Service
1.We provide all the technical materials and drawings as the contract; compile and supplement operation manual according to the final commissioning results.
2.We offers on-site training service according to progress of the project, installing, trying operation and production of the whole line as it is required on the technical materials and drawings.
3.We gives training of installation, commissioning, use and maintenance
4.During warranty period, our company will provide an answer or staff within 4 hours once receiving feedbacks about quality of the products.
5. Beyond warranty period, we will provide paid service for improvement of technology, maintenance of the machine or offer of the spare parts.